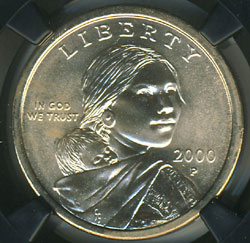 The circulation strike mintage levels for the Sacagawea Dollar series are interesting to examine. For the first year of the series, more than one billion coins were produced across the Philadelphia and Denver Mint facilities. This figure would decline drastically to about 130 million by the second year and to less than 8 million by the third year.
The new dollar coins did not circulate widely as intended, so production was quickly scaled back and limited only to the demand generated from numismatic channels. From 2002 to 2008, the coins not distributed for circulation but only available within numismatic bags and rolls priced at a premium above face value. Over the years, collectors tended to order fewer bags and rolls, resulting in a trend of declining mintages.
The lowest mintage coins under the original design are the 2008-P and 2008-D coins, with only 1,820,000 coins were produced at each Mint.
Sacagawea Dollar Mintages
| Issue | Mintage |
| --- | --- |
| 2000-P | 767,140,000 |
| 2000-D | 518,916,000 |
| 2001-P | 62,468,000 |
| 2001-D | 70,939,500 |
| 2002-P | 3,865,610 |
| 2002-D | 3,732,000 |
| 2003-P | 3,080,000 |
| 2003-D | 3,080,000 |
| 2004-P | 2,660,000 |
| 2004-D | 2,660,000 |
| 2005-P | 2,520,000 |
| 2005-D | 2,520,000 |
| 2006-P | 4,900,000 |
| 2006-D | 2,800,000 |
| 2007-P | 3,640,000 |
| 2007-D | 3,920,000 |
| 2008-P | 1,820,000 |
| 2008-D | 1,820,000 |