The 2014 Sacagawea (Native American) Dollar (Buy on eBay) continued the the series of annually rotating reverse designs recognizing the contributions and accomplishments of Native Americans. The rotating reverse design was paired with the static obverse design depicting Sacagawea and child that had been in use since 2000.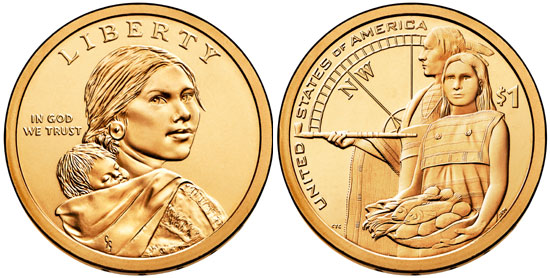 The theme for this year's reverse design was native hospitality which ensured the success of the Lewis and Clark expedition. This reverse design had ties to the obverse design since Sacagawea was the Shoshone woman who accompanied the expedition to serve as an interpreter and guide through the Western United States.
The reverse design carried a depiction of a Native American man offering a pipe and his wife offering provisions of fish, corn, roots and gourds. The background of the image contained a stylized image of the face of William Clark's compass pointing to the direction NW. The reverse was designed by Chris Costello and engraved by Joseph Menna.
As in recent prior years, the 2014 Sacagawea Dollar was not issued for general circulation, but only available within numismatic products. On March 20, 2014, the United States Mint opened sales for 25-coin rolls, 100-coin bags, and 250-coin boxes of circulation strike coins from the Philadelphia or Denver Mint facilities. The total mintage for the circulation strikes reached 3,080,000 pieces at Philadelphia and 5,600,000 at Denver, surpassing the unusually low mintage levels of the prior year.
Throughout the year, the Proof version of the coin would be available within the 2014 Proof Set and 2014 Silver Proof Set. Late in the year, a special version with an Enhanced Uncirculated Finish was available within the 2014 American $1 Coin and Currency Set. This set was limited to 50,000 units.
2014 Sacagawea (Native American) Dollar Artists
Obverse Designer: Glenna Goodacre
Reverse Sculptor: Joseph Menna (Medallic Artist)
Reverse Sculptor: Chris Costello (Artistic Infusion Program)
2014 Sacagawea (Native American) Dollar Mintages
2014-P: 3,080,000
2014-D: 2,800,000
2014-D Enhanced Uncirculated: 50,000
2014-S Proof: 1,144,154

< 2013 Sacagawea (Native American) Dollar | 2015 Sacagawea (Native American) Dollar >