The 2001 Sacagawea Dollar (Buy on eBay) marked the second year of release for the new "Golden Dollar" coin series. Despite the high level of promotion accompanying the launch of the series, the new dollar coin never caught on with the public. After an enormous mintage in the first year, the number of coins produced fell by nearly 90% to a combined mintage of about 133 million coins. This would actually mark the last year that the series would be struck for circulation. In the following years, coins were minted for direct sales to collectors or inclusion within collector sets.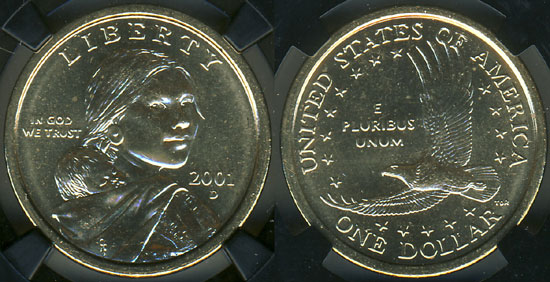 Coins were produced for circulation at the Philadelphia and Denver mint facilities. The San Francisco Mint produced a Proof version of the coin which was included in the annual Proof Set and Silver Proof Set. This Proof version carries a high premium compared to other years.
The United States Mint packaged circulating quality coins in 25-coin rolls and 2,000-coin bags for direct sales to collectors with availability beginning on February 21. The products were priced at $35.50 for the rolls and $2,190.00 for the bags, and available during the year of original issue.
Almost a decade later, the U.S. Mint offered the 2001 Sacagawea Dollars in boxes of 250 coins through their Direct Ship Program, with an aim to promote robust circulation of the dollar coin. These coins were offered at face value with no charge for shipping.
2001 Sacagawea Dollar Mintages
2001-P: 62,468,000
2001-D: 70,939,500
2001-S Proof: 3,183,740

< 2000 Sacagawea Dollar | 2002 Sacagawea Dollar >