The 2012 Sacagawea (Native American) Dollar (Buy on eBay) experienced a significant drop in mintage levels as a result of the legislative tie to the Presidential Dollars Program.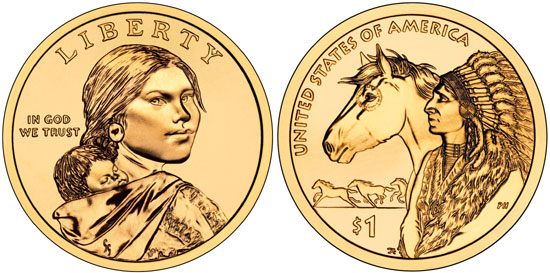 Under the authorizing legislation, production of the $1 coins featuring designs honoring the contributions and accomplishments of Native Americans were to make up at least 20% of all $1 coin production for each year. With the Presidential Dollars issued for circulation across four different annual designs, production levels for the Sacagawea Dollars were robust from 2009 to 2011. Starting in 2012, the Treasury Department decided to suspend production of Presidential Dollars for circulation. The lower production for this series resulted in similarly low production for Sacagawea Dollars.
The theme for the 2012 Sacagawea Dollar is "Trade Routes in the 17th Century." The reverse design by Thomas Cleveland features a Native American and horse in profile with horses running in the background representing the historical spread of the horse. The inscription reads "UNITED STATES OF AMERICA" with the denomination expressed as "$1" below the line of three horses. The obverse of the coin carries the portrait of Sacagawea and child designed by Glenna Goodacre.
For this year, the coins were offered for sale only within United States Mint numismatic products. Primarily this consisted of 25-coin rolls, 100-coin bags, 250-coin boxes, and 500-coin boxes containing circulating quality examples of the coin. Sales began on April 26, 2012 and all options were officially sold out by May 2013. Since production levels were based on the demand from these product options, mintages were significantly lower than prior years. The Philadelphia and Denver Mint struck 2.80 million and 3.08 million circulating quality pieces, respectively.
The 2012 Proof Sacagawea Dollar was available in the annual Proof Set and Silver Proof Set. Sales figures for these two products came in at historical lows, resulting in limited mintage for the Proof quality version of the coin, as well.
2012 Sacagawea (Native American) Dollar Artists
Obverse Designer: Glenna Goodacre
Reverse Sculptor: Phebe Hemphill (Medallic Artist)
Reverse Sculptor: Thomas Cleveland
2012 Sacagawea (Native American) Dollar Mintages
2012-P: 2,800,000
2012-D: 3,080,000
2012-S Proof: 1,189,445

< 2011 Sacagawea (Native American) Dollar | 2013 Sacagawea (Native American) Dollar >