The 2007 Sacagawea Dollar (Buy on eBay) represented the eighth year of the "Golden Dollar" series. The United States Mint had actually ceased producing the coins for circulation after 2001, but continued to produce the coins in limited numbers for direct sale to coin collectors and inclusion within annual sets.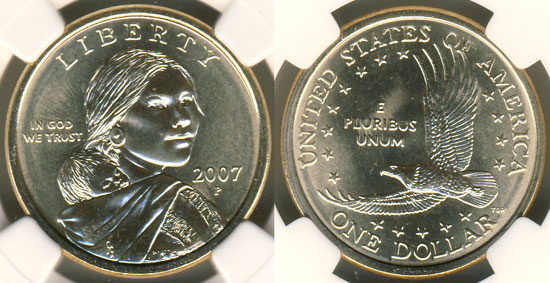 The U.S. Mint began sales of numismatic bags and rolls of 2007 Sacagawea Dollars on March 20. Rolls of 25 coins were available from either the Philadelphia or Denver Mint priced at $35.95 each. Bags of 250 coins were available from either Mint for $319.95 each. Notably, this was a reduction in price for the prior year level of $347 per bag. No reason was provided for the price decrease.
Special versions of the coin were included within the annual sets released by the U.S. Mint. The 2007 Proof Sets contained a Proof version of the coin struck at the San Francisco Mint. The 2007 Mint Sets contained Satin finish versions of the coin from the Philadelphia and Denver Mints.
The Sacagawea Dollar series received some renewed attention this year when the U.S. Mint displayed 12 gold Proof Sacagawea Dollars that had flown aboard the Space Shuttle Columbia in July 1999. The coins were shown at the ANA World's Fair of Money in Milwaukee, Wisconsin in August 2007. Each coin was minted in one half ounce of 22-karat gold at the West Point Mint. Following the display, the coins were returned to Fort Knox for storage and safe keeping.
This year marked the launch of a separate dollar coin series from the U.S. Mint, featuring the former presidents. The format of the new Presidential Dollars followed the popular State Quarters, with several different designs released each year. The Presidential Dollars were struck in large numbers and issued for circulation, although the Sacagawea Dollars continued to be confined to collector offerings.
2007 Sacagawea Dollar Mintages
2007-P: 3,640,000
2007-D: 3,920,000
2007-S Proof: 2,577,166

< 2006 Sacagawea Dollar | 2008 Sacagawea Dollar >