The 2004 Sacagawea Dollar (Buy on eBay) represented the third year in a row that the series was not struck for circulation. Although many praised the design by Glenna Goodacre and Thomas D. Rodgers, the public was not ready to embrace the concept of a circulating dollar coin, especially with paper dollars remaining within use. Just enough coins were produced to fulfill the demand from numismatic bag and roll sales, as well as to include in the annual coin sets.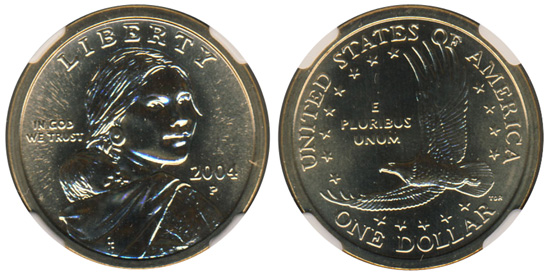 At this point, the United States Mint was producing two traditionally circulating denominations only for numismatic purposes, the half dollar and dollar. The cent, nickel, dime, and quarter were struck in large quantities and readily fulfilled the needs of commerce.
Sales of the dollar coins in bags and rolls began on April 20. The bags contained 2,000 coins each and were priced at $2,490, which included a $300 price increase from the prior year. The rolls contained 25 coins each and were priced at $35.50, unchanged from the previous year. Separate bags and rolls were available from either the Philadelphia or Denver Mint. The overall number of coins sold through the program declined from the prior year, taking the final mintages a bit lower.
The coins were included in the U.S. Mint's 2004 Proof Set and 2004 Silver Proof Set, which contained the 2004-S Proof Sacagawea Dollar, struck at the San Francisco Mint. The coins were additionally included in the 2004 Mint Set, which contained the 2004-P Sacagawea and the 2004-D Sacagawea Dollar.
2004 Sacagawea Dollar Mintages
2004-P: 2,660,000
2004-D: 2,660,000
2004-S Proof: 2,965,422

< 2003 Sacagawea Dollar | 2005 Sacagawea Dollar >