The series of golden colored $1 coins honoring the contributions and accomplishments of Native Americans entered its seventh year with the 2015 Sacagawea (Native American) Dollar (Buy on eBay). The latest annually rotating reverse design featured the Mohawk Ironworkers, the builders of New York City and other skylines.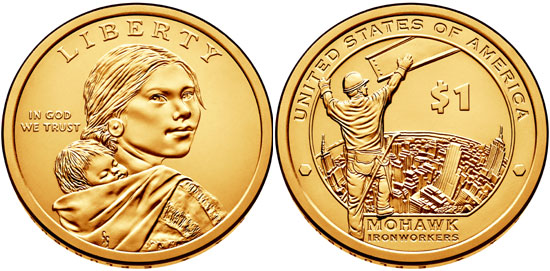 The obverse featured the depiction of Sacagawea and child designed by Glenna Goodacre. This image had been used for the Sacagawea Dollar series from 2000 to 2008 and the retitled Native American Dollar series from 2009 onwards.
The reverse design of the 2015 Sacagawea Dollar depicted a Mohawk Ironworker reaching for an I-beam swinging into position with an elevated view of the city skyline in the background. The left and right side of the border contain rivets with the inscriptions "UNITED STATES OF AMERICA" and "MOHAWK IRONWORKERS." The denomination appears within the field as "$1." The reverse was designed by Ronald D. Sanders and engraved by Phebe Hemphill.
The 2015 Sacagawea or Native American Dollar was not issued for general circulation, but only available within numismatic products. The first availability was on March 19, 2015 when the United States Mint offered 25-coin rolls, 100-coin bags, and 250-coin boxes containing circulating quality versions of the coin from the Philadelphia or Denver Mint facilities.
Later in the year, the Proof version of the coin was made available within the 2015 Proof Set and 2015 Silver Proof Set.
Reprising the product offering created in the previous year, on August 24 the U.S. Mint offered the 2015 American $1 Coin & Currency Set. This product included one 2015 Native American Dollar with an Enhanced Uncirculated finish struck at the West Point Mint and bearing the "W" mint mark. The set also included one $1 series 2013 note from the Federal Reserve Bank of New York. The serial number of the notes began with the digits "911" in honor of the Mohawk Ironworkers' recovery efforts following the collapse of the World Trade Center twin towers following the attacks on September 11, 2001. These sets were limited to a production of 90,000 units.
2015 Sacagawea (Native American) Dollar Artists
Obverse Designer: Glenna Goodacre
Reverse Sculptor: Phebe Hemphill (Medallic Artist)
Reverse Sculptor: Ronald D. Sanders (Artistic Infusion Program)
2015 Sacagawea (Native American) Dollar Mintages
2015-P: 2,800,000
2015-D: 2,240,000
2015-S Proof: 1,050,164
2015-W Enhanced Uncirculated: 88,805

< 2014 Sacagawea (Native American) Dollar | 2016 Sacagawea (Native American) Dollar >