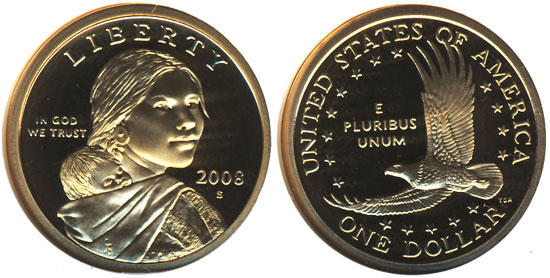 The United States Mint has produced Proof Sacagawea Dollars for each year of issue. These coins have been struck at the San Francisco Mint and carry the "S" mint mark. Like all modern proof coinage struck by the US Mint, the coins feature frosted raised design elements and inscriptions against a mirrored background to create a special cameo effect.
For each year, the Proof Sacagawea Dollars have been included within the annual Proof Set and annual Silver Proof Set. From 2005 to 2008, the coins were also included within the American Legacy Collection.
Following the format of the overall series, from 2000 to 2008 the coins featured the original design with Sacagawea and child on the obverse and a soaring bald eagle on the reverse. From 2009 to present, under the new title of Native American Dollars, the reverse design has featured an annually rotating design which celebrates the accomplishments and contributions of Native Americans.
The mintage levels for Proof Sacagawea Dollars follow the sales trends for the annual proof sets. The highest mintage was achieved in 2000, at 4,047,904 pieces when the popularity of annual sets was at its recent peak. Mintage levels would decline gradually until a temporary low reached in 2008 at 2,169,561 pieces. In the past, this issue was considered a key date, but recent mintage levels have dropped to even lower levels.
Proof Sacagawea Dollar Mintages
| | |
| --- | --- |
| 2000-S | 4,047,904 |
| 2001-S | 3,183,740 |
| 2002-S | 3,211,995 |
| 2003-S | 3,298,439 |
| 2004-S | 2,965,422 |
| 2005-S | 3,344,679 |
| 2006-S | 3,054,436 |
| 2007-S | 2,577,166 |
| 2008-S | 2,169,561 |
| 2009-S | 2,179,867 |
| 2010-S | 1,689,216 |
| 2011-S | 1,673,010 |
| 2012-S | 1,237,415 |
| 2013-S | 1,237,926 |